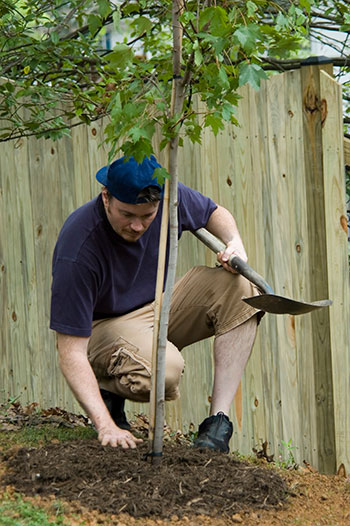 Mulching
Trees add beauty to any property, decorating the landscape with variety and providing us with many benefits like shade and better air quality. There are simple things we can do for our trees in return, like mulching.
While it may be visually appealing for some homeowners to have there trees surrounded by landscaping of river rock or planted grass, the best thing we can do for our trees at the ground level is natural mulching. Trees and turf grass have conflicting symbiosis and compete with each other for resources. Tree roots thrive amidst fungal organisms called mycorrhizae, whereas grasses interact in a complex relationship with bacteria carried by herbivores. By mulching all the way out to the dripline of any tree, we give the soil the organic material in which mycorrhizae may thrive, in turn working to break down nutrients to make them more available to the tree's feeder roots.
Furthermore, mulch keeps turf grass that may deprive the tree of nitrogen from growing around the root basal, where nutrient uptake occurs. Good mulching habits have a naturally fertilizing effect when natural mulch is used. Natural mulch is the woody waste that comes from chipping limbs, logs and brush as opposed to kiln dried landscaping mulch that offers little nutritional benefit. Whereas landscaping materials like cedar chips and river rock can be expensive, Cutting Edge Tree Services has an unlimited supply of natural mulch we offer free to anyone to pick up at our Mason City location! We also offer mulch delivery and a proper mulching education service at a fraction of the cost of commercial landscaping materials.