Meet Our Team

Kevin Hardy
ISA Certified Arborist MW-4994A
Mason City native, husband and father of six children, Kevin is a graduate of University of Northern Iowa, where he majored in Business Management with an emphasis on supply chain and operations management. In 2002, he founded The Cutting Edge Tree Service, serving the Des Moines metro area and surrounding communities out of Ames, Iowa. Recognizing a need for professional arborists in his hometown who understand the value of innovation and continual self improvement, Kevin returned to North Iowa and streamlined the company's identity, now Cutting Edge Tree Services in Mason City. Kevin is expertly trained in non-invasive tree climbing procedures necessary to trim hard to reach trees without harming them in the climbing process. More than just a tree guy, he genuinely cares for trees, becoming a member of the Tree Care Industry Association (TCIA) in 2008 and an International Society of Arboriculture Certified Arborist in 2009. As an annual attendee of the Shade Tree Short Course at Iowa State University, he continues his arborist education and encourages his employees to attend as well. He later created Arbor Master, The Tree Health Care Specialist and became licensed by the Iowa Department of Agriculture and Land Stewardship as a pesticide applicator, a state requirement for arborists to treat ornamental and shade trees for insect control and disease prevention. With a passionate dedication to quality customer service, Kevin Hardy, Cutting Edge and Arbor Master continue to exceed our customers' expectations.
---
Chad Bernhardt
NCCO Certified Crane Operator 1902170043
The right-hand man of all things Cutting Edge, Chad Bernhardt is a crane operator certified by the National Commission for Certification of Crane Operators with many years of experience engineering solutions for difficult and dangerous problems in real time. Chad grew up in Souix City, Iowa where he attended East High School and worked for his father at Bernhardt Construction for 10 years. Having a Class A CDL led Chad to trying his hand at tree work in Mason City where he is raising 4 kids with the love of his life Ashley Davis. When he's not putting up or taking down church steeples or removing trees from the roofs of houses after one of Iowa's legendary wind storms, Chad enjoys spending time being active with his family outdoors.
---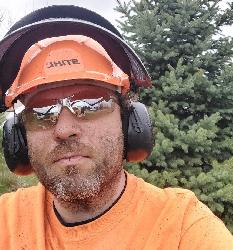 Jesse Fox
ISA Certified Arborist IW-0104A
Jesse grew up in Mason City, Iowa before moving to San Diego, California in the late 90's to attend art school. After graduating from San Diego State University and spending many years painting scenic western landscapes and fantastic portraits, he was invited by childhood friend Kevin Hardy to return home and reinvent himself as the personality behind Arbor Master, The Tree Health Care Specialist. In 2013, Jesse started working as a groundsman for Cutting Edge Tree Services to learn everything he could about the physical side of tree care before going back to school to study arboriculture in the 2014 Shade Tree Short Course at Iowa State University. As an Iowa Department of Agriculture and Land Stewardship certified pesticide applicator, he is qualified in many aspects of tree health care and continually seeking further education by attending annual tree care conferences, webinars and workshops. In 2015, Jesse completed Arbojet's winter webinar series, acquiring expert knowledge and skills working with trunk injection technology. Arborjet is the industry leader in injectable tree health care solutions and Jesse is proud to be certified "Arborjet Trained." The most interesting part of the tree service business for him is how much creativity plays a role in daily problem solving. As a painter of pictures, getting to work in the beauty of the natural environment is like living in a constantly evolving work of art for Jesse, with new places to see and people to meet every day.